01 Apr 2007
I poked over to Slashdot this morning before I ran off to basketball. I saw this: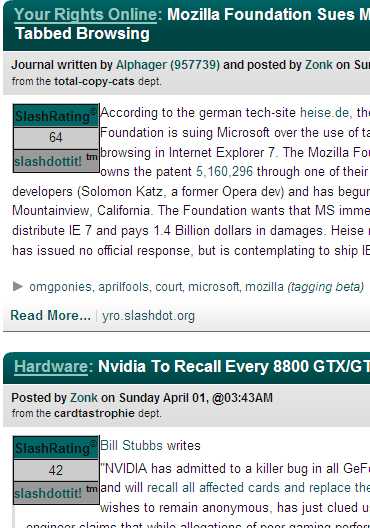 Holy crap. That's ugly.
Clicking the little link to vote takes you to a Thank You screen that says that voting will help ensure the best stories are presented. I would have expected something more interactive, more (dare I say it) Web 2.0-y.
Then I actually read the Thank You message:
"Thank You for participating in the Slashdottit Rating System
Your vote in the Slashdottit system will help insure the best stories are presented to our readers, with hyper accurate numbers to indicate their relevance and general awesomeness. Only by requiring the contribution of every random user of the internet can we guarantee the most scientifically perfect numbers will be generated. These numbers will guarantee that every story that appears on Slashdot will be interesting, insightful, and flawless. Vote early, vote often."
Ha. Clever. April Fool's. Well played.